Things to do in the area around Cielito Sur B&B Inn
Nearby the B&B Inn:
Bird-watching, hiking, Rainbow Trout fishing, swimming, kayaking and white-water rafting, mountain biking, visiting the Volcan Baru National Park and La Amistad International Park.
Bird Watching! Panama is a bird watcher's haven, there are 972 bird species in Panama, and over 500 of these can be found in the Chiriqui province! Birding is good year round. Migrants from the north generally arrive in September and October and depart late April.

Birding at Cielito Sur starts right on the porch. Over 115 species have been recorded in our homestead grounds. Mixed flocks of tanagers often pass through, stopping to feed in our fruit tree orchards. A trail provide access to the forest, which begins less than a fifty meters from the Inn. The path winds through the hillside forest, passing several streams, providing an opportunity to see some of the highland bird species. Of particular interest are the hummingbird feeders around the Inn where you can appreciate the Violet Sabrewing, Magnificent Hummingbird, White-throated Mountain Gem, Green Violet-ear, Snowy-bellied Hummingbird, Stripe-tailed Hummingbird, Scintillant Hummingbird, Volcano Hummingbird, Rufous-tailed Hummingbird, Fiery-throated Hummingbird, Green-crowned Brilliant and the Green Hermit.
(See Cielito Sur Bird Photos) (See Cielito Sur Bird Checklist) (Christmas Bird Count - Volcan) (Recommended Bird Guide Books)

Some of the Chiriqui highlands birding locations include:
Talamanca Endemic Bird Area (EBA) includes the Volcan Baru National Park and La Amistad International Park where you can find the Resplendent Quetzal, Chiriqui Quail-Dove, Collared Redstart, Ruddy Treerunner, Large-footed Finch, Black-capped Flycatcher, Buff-fronted Quail Dove, Yellow-winged Vireo, Black-thighed Grosbeak, Spangle-cheeked Tanager, Prong-billed Barbet, Long-tailed Silky-Flycatcher, Black and Yellow Silky Flycatcher, Slaty Finch, Black Guan, Silvery-fronted Tapaculo and other highland specialties.

The Volcan Lagunas Wetland is one of the best birding area. Here you can find the Collared Trogon, Orange-bellied Trogon, Smoky-brown Woodpecker, Silvery-throated Jay, Little Tinamou, Sunbittern, Northern Jacana, Wattled Jacana, Common Moorhen, Osprey, Purple Gallinule, Least Grebe, Masked Duck.

The western region of Santa Clara, this birding destination about 40 kms. (25 miles) from the town of Volcan, offers great birding in a transitional area between the highlands and the lower foothills of the Talamanca Range. A couple of the best birding locations in the Santa Clara area are Finca Hartman and Finca Schaper. Some species to look for: Fiery-billed Aracari, Black-chested Jay, White-tailed Emerald, Golden-bellied Flycatcher, Violaceous Trogon, Masked Tityra, White-crowned Parrot and Turquoise Cotinga.
Click on thumbnail below for full size view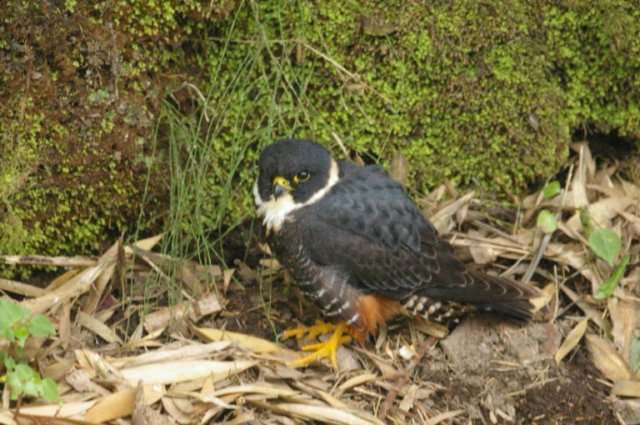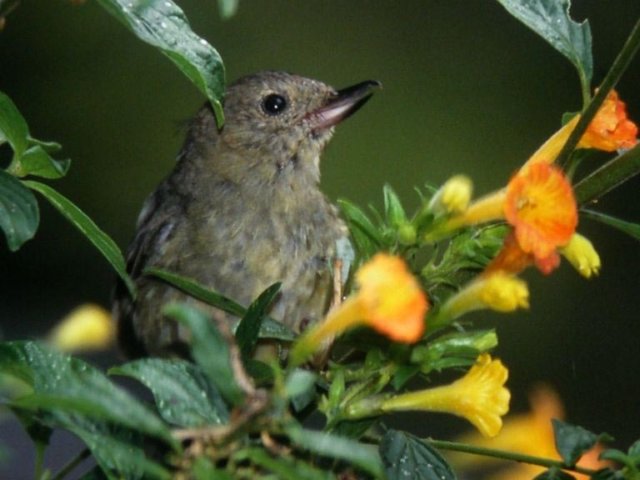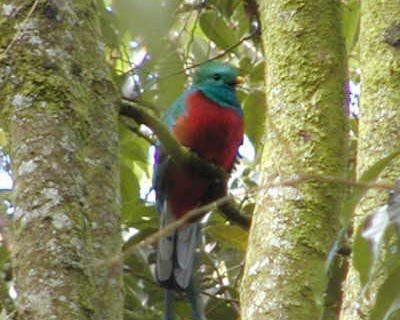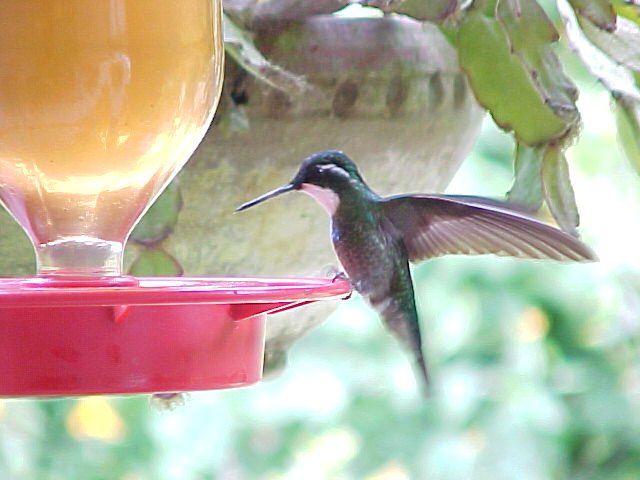 ---
Hiking in our area ranges from casual one or two hour strolls beside tumbling streams to day-long treks leading you to cliff edges and mountain tops with spectacular vistas of rivers, waterfalls and cloud-forest covered hills. Late Rainy-Season and the Dry-Season are great for hiking in this area! Two favorite hiking spots include the Volcan Baru National Park and La Amistal International Park. Other trailheads, 15 to 30 minutes by car, are jumping-off places for climbs beside waterfalls or a 30 minute bird-watching ambles in a wetlands sanctuary.
Baru Volcano National Park:
(Parque Nacional Volcan Baru) covers 14,000 hectares (34,594.6 acres) of the imposing 3,475 meter (11,400 feet) high Baru Volcano Massif, the highest point in the Republic of Panama. The rough topography and the climatic variations in the park give rise to a great variety of life zones. Enormous oak trees predominate in the forest canopy on the sides of the massif.
(See map of Volcan Baru National Park)
Sendero Los Quetzales is a hiking trail which joins the towns of Cerro Punta and Boquete. This trail offers great bird watching opportunities. Over 225 species of birds have been recorded in the park, including the Long-tailed Silky Flycatcher, the Hairy Woodpecker, Timberline Wren, Black-bellied Hummingbird, the spectacular Black and White Hawk-Eagle, Yellow-thighed Finch, Black Guan and of course the Resplendent Quetzal.
Sendero Las Tres Rocas a beautiful hike to three big rock formation and a lookout platform. A nearby camping site provides shelter for those wishing to spend the night.
The Baru Volcano summit can be reached after a 6 hour hike. On a clear day there is a spectacular panoramic view of both oceans and much of the western part of the country.
Click on thumbnail below for full size view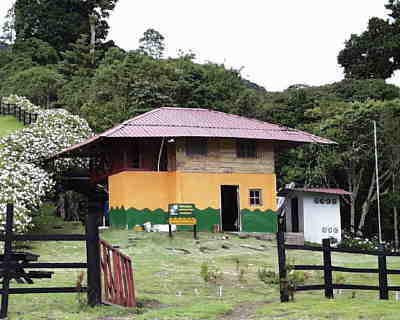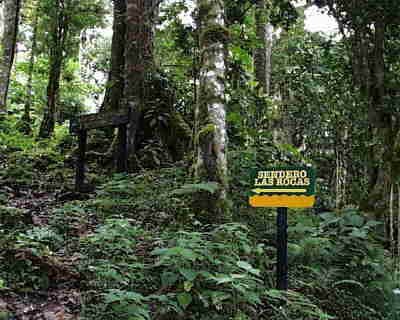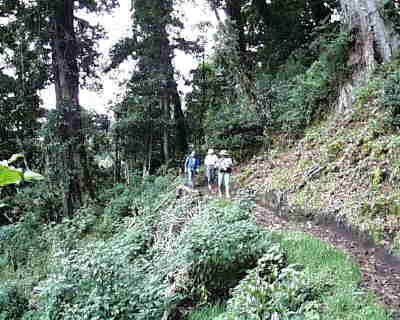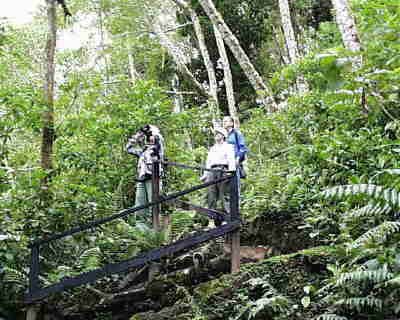 La Amistad International Park,
popularly known as PILA (Parque Internacional La Amistad), covers 207,000 hectares (511,506 acres) of spectacular natural highland and cloud forest landscapes that are unique in Panama. The park covers a large part of the Talamanca Mountain Range, and the name Amistad "Friendship", refers to the fact that it is a contiguous with a sister park in Costa Rica. This park is located within two Panamanian provinces, Chiriqui and Bocas del Toro. The park is mostly mountainous, and because of the elevation changes, a great diversity of life zones is found there. La Amistad is made up of protected areas of exceptional biological diversity and beauty. Amistad International Park protects the hydrographic basins of the rivers Teribe and Changuinola. Average annual precipitation ranges between 5,500 and 2,500 mm (216.5 and 98.4 in), making the park one of the wettest in the country. La Amistad is one of the best places to observe birds in the region. With over 400 recorded species of birds, it is possible to see the Resplendent Quetzal, the rare Umbrella Bird, Three-wattled Bellbird, Wrenthrush, Silvery-throated Jay, Crested Eagle and Harpy Eagle.
(See map of La Amistad International Park)
Sendero El Retoño is a nice easy introduction to the cloud forest. The trail starts at the ranger station and loops around a secondary growth forest. The trail has several small wood bridges over pristine mountain streams.
Sendero La Cascada is a steep hike up to a beautiful waterfall. Several lookout points on the way provide a scenic view of the cloud forest.
Click on thumbnail below for full size view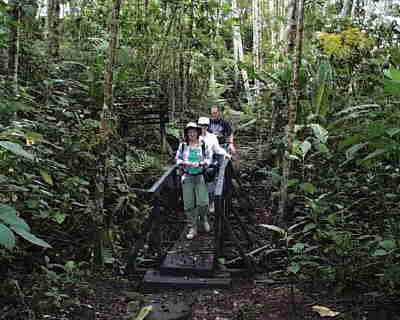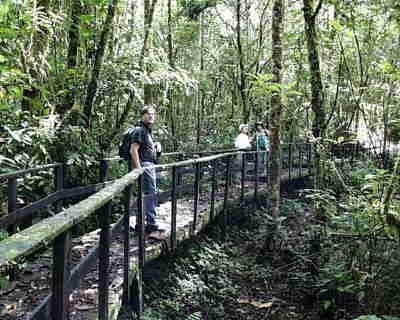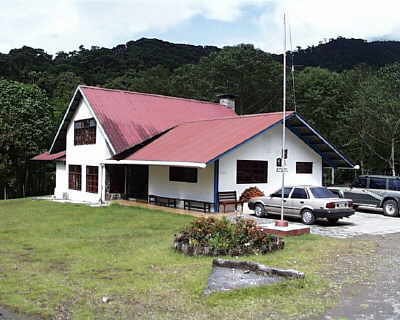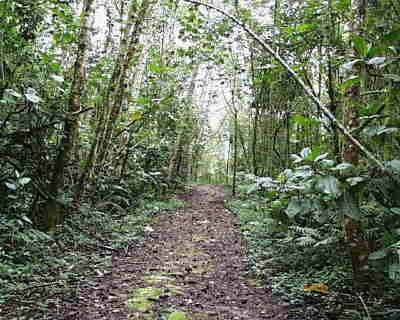 ---
In or near the town of Volcan:
Take a canoe ride and explore the Volcan Lagunas Wetland. These lagoons are the highest marsh ecosystem in Panama. The wetland, at 1,200 meters (3,937 feet) above sea level, covers 142.5 hectares (352 acres) and includes the native forest adjacent to the lagoons. Another exceptional area for bird watching where it is possible to see the Pale-billed Woodpecker, the rare Rose-throated Becard, the Masked Duck and the Jacana.
Visit Los Pozos de Aguas Termales (Hot Spring).
Sitio Barriles: Private farm with free tour of Pre-Columbian Indian culture & history, several Petroglyphs and artifacts on site.
San Benito: Catholic agricultural & craft school with a nice showroom of wood carvings and handicrafts.
La Fuente: Volcan community park with a spring and pond.
Arte Cruz: wood carving and handicrafts.
Janson Family Coffee: learn how coffee is processed and enjoy a delicious cup of coffee
Vino Don Coba: natural tropical fruit wine.
American Flowers: flower farm.
Finca Guardia: horse ranch and trail riding.
Click on thumbnail below for full size view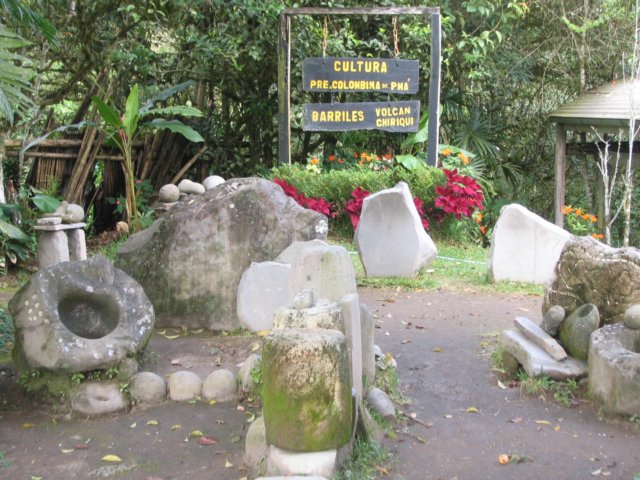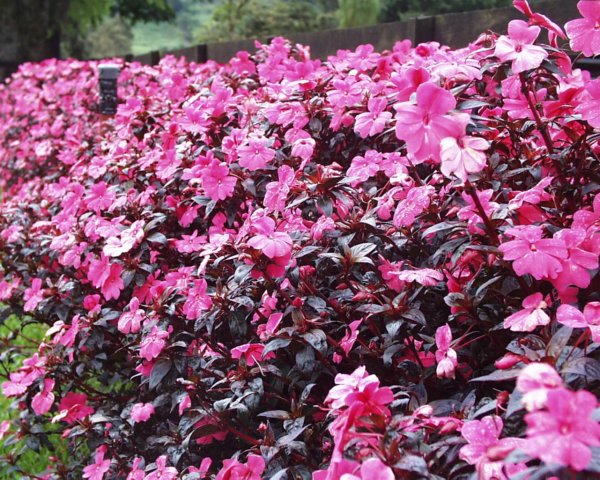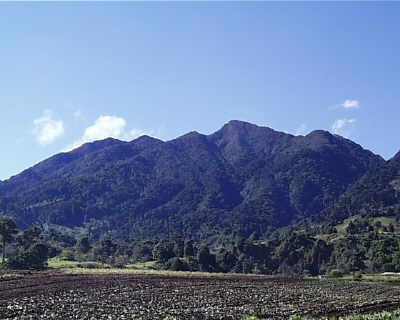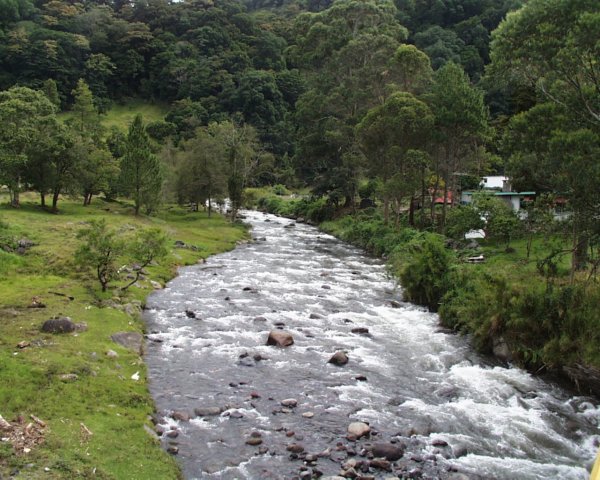 ---
Around Cerro Punta, the highest town in Panama surrounded by cloud-forests:
Carinthia: dairy farm
Haras Cerro Punta: offer tours of their pure breed horse ranch
Finca Dracula: botanical garden with over 1,000 species of orchids
Truchas Bambito: fish or buy fresh Rainbow Trout
Panaflores: flower farm
Finca El Pariente: strawberry farm
Organic & traditional vegetable farms
Click on thumbnail below for full size view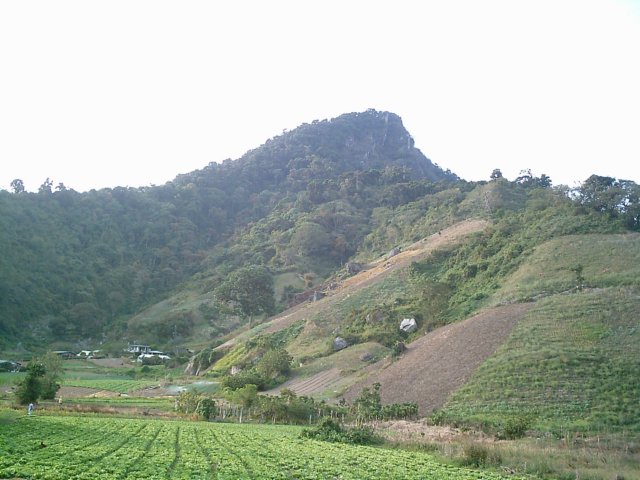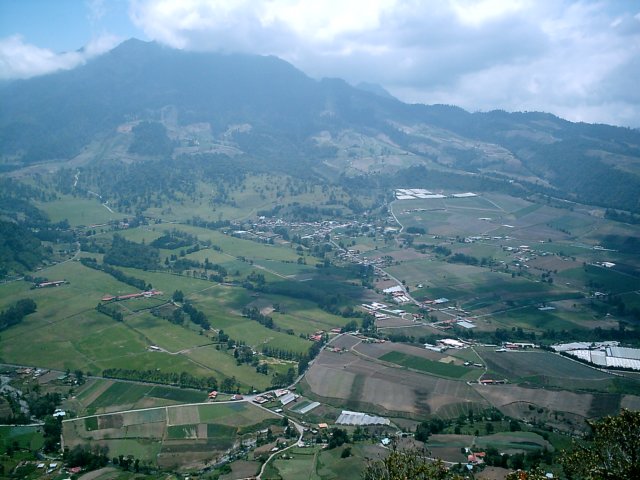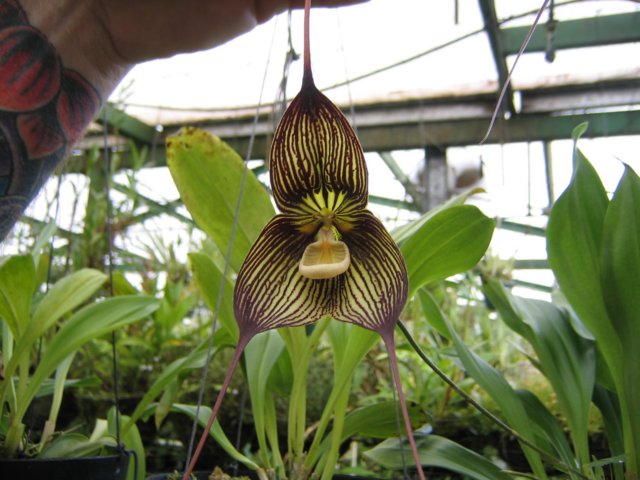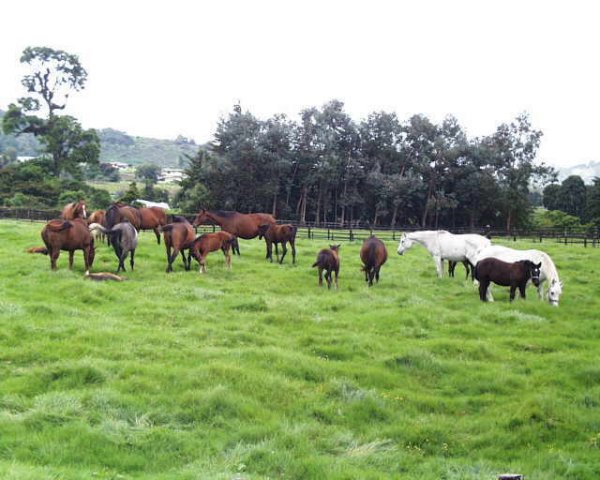 ---
Day Trips:
Whitewater Rafting on the Chiriqui River or the Chiriqui Viejo River depending on the season are available from Chiriqui River Rafting or Aventuras Panama, two very safety conscious operators with equipment that meets US standards. Depending on the season and river you choose to raft, you will encounter Class II to IV rapids. Unspoiled, pristine, no crowds!
Mini excursion to San Vito, Costa Rica. Visit the Robert and Catherine Wilson Botanical Gardens, which has a beautiful, internationally-acclaimed collection of tropical plants. The garden is managed by the Organization for Tropical Studies, which has a lodge within it. The 12 hectares (30 acres) of cultivated grounds are surrounded by a 350 acre forest reserve, which is part of the 47,1800 hectares (1,165,840 acres) La Amistad Biosphere Reserve, so you won't run out of trails to hike on.
Explore the Gulf of Chiriqui National Marine Park.
Click on thumbnail below for full size view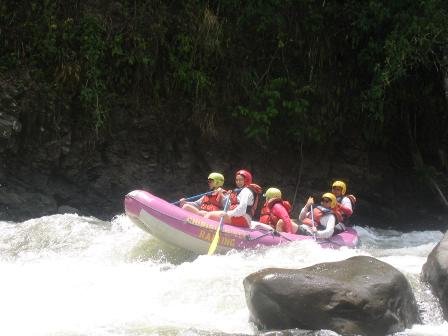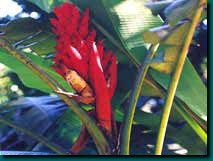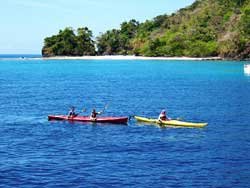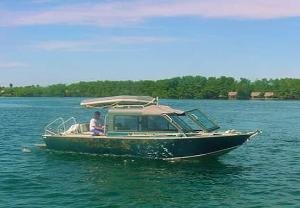 ---
Back at the Inn:
"Armchair birding", perennial and rose gardens, coffee and fruit orchards, forest trail, relaxing on the porch or on the terrace by the stream, unwinding in the jacuzzi, enjoying the antics of the hummingbirds. Peace and quiet.
Click on thumbnail below for full size view